The Akai APC40 is a great controller for MIDI mapping to applications (Traktor, etc.) as it has a large and varied set of controls available, along with multi-coloured pads. For a MIDI application to take full advantage of these the APC40 needs to be in Firmware Mode 1; upon power-up, however, the APC40 enters Firmware Mode 0. Switching to Firmware Mode 1 can be done by opening Ableton Live, waiting for the APC40 to be recognised as a control surface (assuming it is configured as one), and then closing Live. apc40-mode is simple utility that will let you switch between the three firmware modes at the command line, so you don't have to open Live (or even have it installed).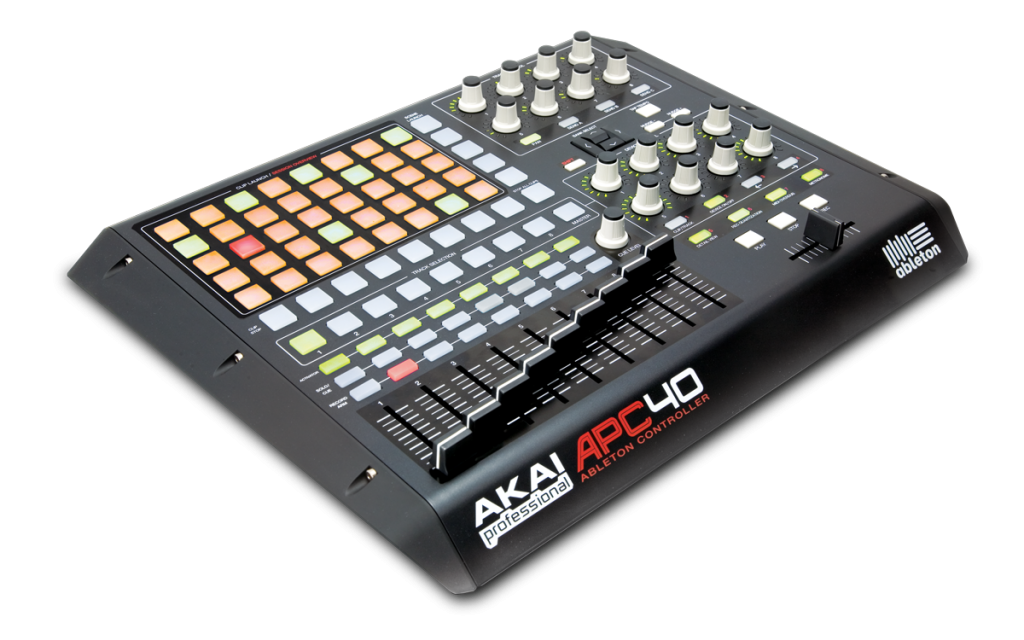 From the README file:
apc40-mode is a simple Java utility to switch between the three firmware modes of the Akai APC40 MIDI Controller, as described at http://www.akaipro.com/apc40map and in http://www.akaipro.com/extras/product/apc40/APC40_Communications_Protocol_rev_1.pdf

It is currently Mac OS X only, and because Apple's Java implementation is broken with some aspects of javax.sound.midi, it requires the mmj libraries found here - http://www.humatic.de/htools/mmj.htm

To install the mmj libraries, download the package from http://www.humatic.de/webapps/php/download/pick.php?app=mmj and unzip mmj.zip. Copy libmmj.jnilib and mmj.jar into /Library/Java/Extensions/ and you're done.

To build apc40-mode from scratch, simply use "javac APC40Mode.java". A class file is included, however, so this shouldn't be necessary.

To use apc40-mode, cd to the directory where APC40Mode.class is located and invoke it with "java APC40Mode mode".

mode can be 0, 1 or 2, corresponding to the following modes:

0 - Generic Mode
1 - Ableton Live Mode
2 - Alternate Ableton Live Mode

Note that upon power-up, the APC40 enters Generic Mode. If you open Ableton Live with the APC40 powered and connected, and wait until you see the "red square" around the clips in Live, the APC40 will enter Ableton Live Mode, and will remain in this mode when you quit Live. (This will only occur if the APC40 is configured as a control surface in Live's preferences).
The code is simple- find the APC40 device, and send it a small MIDI SysEx message.
import de.humatic.mmj.*;

public class APC40Mode
{
    private static final boolean DEBUG = true;
    private static final String APC40_NAME = "Akai APC40 - Akai APC40";
    private static byte mode = 0x00;

    public static void main (String[] args)
    {
        if ((args != null) && (args.length == 1))
        {
            if (args[0].equals("0")) { mode = 0x40; }
            else if (args[0].equals("1")) { mode = 0x41; }
            else if (args[0].equals("2")) { mode = 0x42; }
        }

        if (mode != 0x00)
        {
            byte[] introductionData = {(byte)0xf0, 0x47, 0x00, 0x73, 0x60, 0x00, 0x04, mode, 0x08, 0x04, 0x01, (byte)0xf7};

            MidiOutput midiOutput = getMidiOutput();

            if (midiOutput != null) { midiOutput.sendMidi(introductionData); }
            else { System.out.println("no APC40 found"); }
        }
        else { System.out.println("input error"); }
    }

    private static MidiOutput getMidiOutput()
    {
        MidiOutput midiOutput = null;   
        String[] midiOutputs = de.humatic.mmj.MidiSystem.getOutputs();

        if (DEBUG)
        {
            CoreMidiDevice[] coreMidiDevices = de.humatic.mmj.MidiSystem.getDevices();

            for (int i = 0; i < coreMidiDevices.length; i++)
            {
                CoreMidiDevice coreMidiDevice = coreMidiDevices[i];

                System.out.println(coreMidiDevice.getManufacturer());
                System.out.println(coreMidiDevice.getModel());
                System.out.println(coreMidiDevice.getName());
                System.out.println(coreMidiDevice.getID());
                System.out.println(coreMidiDevice.toString());
                System.out.println();
            }

            for (int i = 0; i < midiOutputs.length; i++)
            {
                System.out.println(midiOutputs[i]);
                System.out.println();
            }
        }

        for (int i = 0; i < midiOutputs.length; i++)
        {
            if (midiOutputs[i].equals(APC40_NAME))
            {
                if (DEBUG) { System.out.println("found APC40 at output " + i); }

                midiOutput = de.humatic.mmj.MidiSystem.openMidiOutput(i);
            }
        }

        return midiOutput;
    }
}
Note the TO-DO list:
Make this work on Windows & Linux by using standard javax.sound.midi, and let application auto-detect platform to choose which library to use

Test on APC20 (does it have different modes too?)

Add comments to the code

Add usage message to the code

Convert DEBUG flag to input argument

Package mmj libraries, binary and source into one jar

Create GUI wrapper
You can find the project on GitHub here: https://github.com/tunecrew/apc40-mode